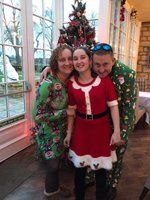 Welcome to my website. In case you're wondering, this is a picture of my family on Christmas day 2019 (I'm on the right!!!!), which I thought would be a bit less boring than a picture of me tuning a piano!
Qualifications
I am well qualified, with a BTEC national diploma in musical instrument technology, a City and Guilds in piano tuning, and my Piano Tuners' Association membership, which is by examination only and is the qualification I am most proud of. (Find out more about the Piano Tuners' Association here.) I've been tuning for nearly 30 years now, so you know you will get a quality service. (I also have a Diploma in Music from the Open University, a BA(Hons) in Education Studies, and a PGCE in music, but none of these have anything to do with my tuning, although I have learnt many transferrable skills for the business from undertaking these qualifications, and I am better qualified than I used to be to advise on piano suitability, starting ages for learners, etc.)
Want to find out more?
I actually live most of the week in Yorkshire and generally come down to Coventry for two consecutive days every week, normally Wednesday and Thursday - sorry, no weekends - with first appointments at 8.30am and normally, final appointments at 3.30pm, although I occasionally book final appointments at 5.30pm. I cover an area centred upon Coventry and up to date starting prices can be found by clicking on the link below, based on a piano that has been tuned in the past 12 months and is in good working order. There are extra charges for pitch raises (most pianos that haven't been tuned for more than a year or so will be below concert pitch) and repairs (including string breakages). I need to speak to you to give you a more accurate estimate, so why not give me call (Monday, Tuesday and Friday evenings after 7pm are the best time to catch me and the landline will generally go to answer phone - the mobile is always the best number to get me on), or fill in the enquiry form here. I will then phone you back as soon as I can. (I won't generally correspond by email as I find it cumbersome and time consuming! One short phone call can cover all questions and get an appointment booked, whereas it might take a few emails to do this, but if you fill this form in as accurately as you can, I will have most of the information I need to make the quickest possible call to you at an appropriate time.)